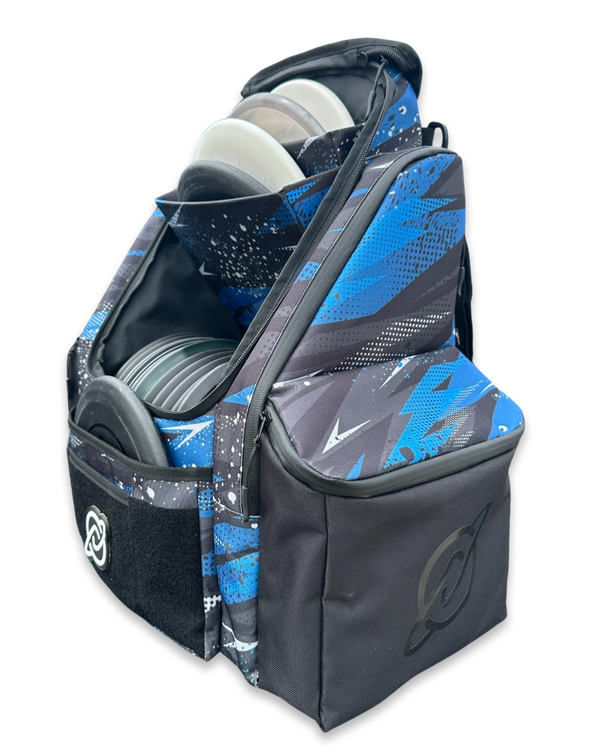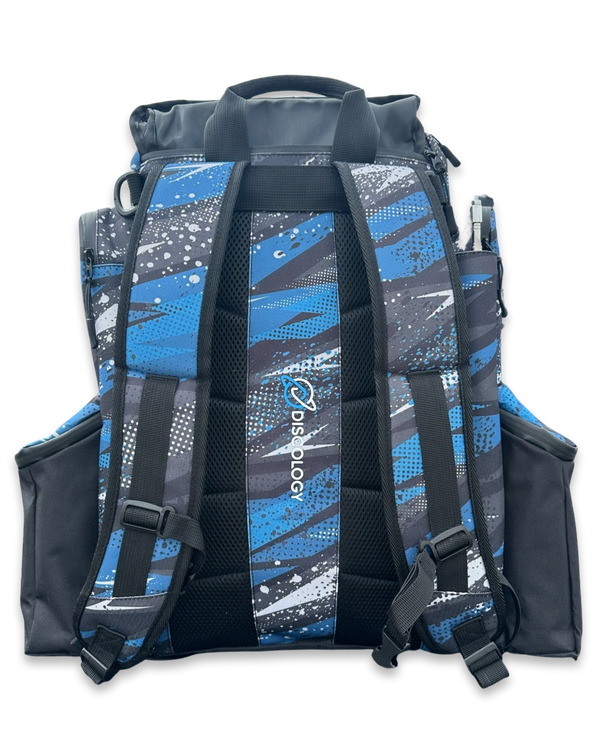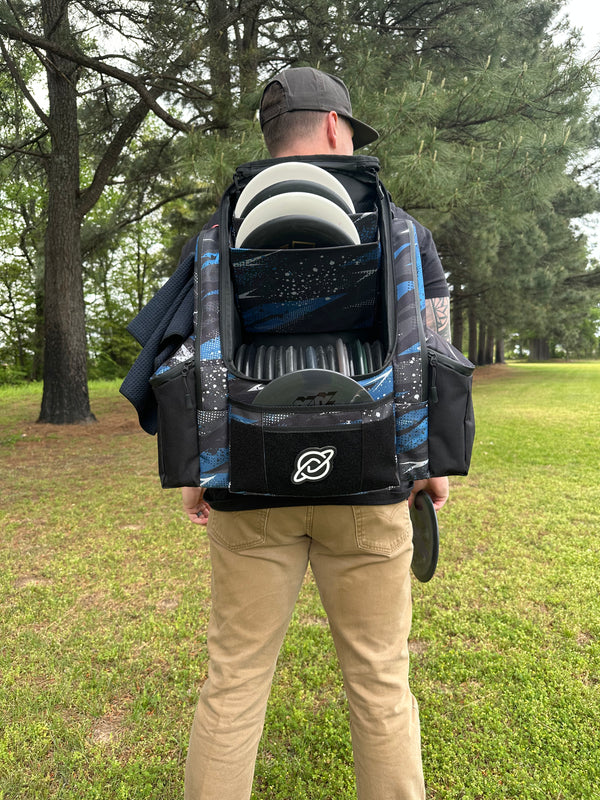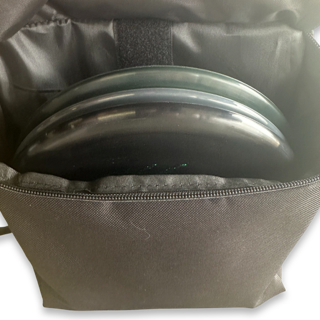 DISCOLOGY ICON AVAILABLE NOW!
The Icon is the latest addition to the Discology Bag Lineup! This bag has it all from comfort, space, quality, looks, and durability. 


DIMENSIONS: 20W x 19H x 9D
ALL ICON BAGS COME WITH A RAIN FLY!
OPEN BAG CONCEPT: Our open bag design makes it very easy for seeing and accessing all discs. 
WATERPROOF ZIPPERS
WATER RESISTANT COATING
VELCRO FOR PATCHES (Comes with one discology patch) 
COMFORT: 
Extra thick back padding and strap padding
Soft Grip Handle 
Great weight distribution
Easy Access bottle holder
STORAGE:
A 30+ disc storage capacity. The main storage compartment can fit 4 putters in the putter pouch, 18 in main copartment, 4-5 discs in each side pouch
2 side pockets that can carry discs, water bottles, Nalgene bottles, Phone, Apparel,  or whatever else you might need. The left pocket also has a removable bottle divider to keep your bottles upright along with a water bottle holder on the right pocket
2 tall stroage compartments with waterproof zippers, able to store sweatshirts, elastic pocket for storing phone, keys, bug spray, sunscreen, or whatever you need
2 D rings so you can hang your towel or speack
Storage sleeve on the back side to store umbrellas or disc retrievers
Dedicated front storage for minis above the velcro area
DURABLE: 
4 Feet on the bottom to protect the bag and provide stability
4 plastic inserts for the side, front, and bottom walls of the bag
All bags come with 1 year warranty
Customer Reviews
12/05/2023
Reuben T.

United States
Greatest Gift for Dad!
I have one in red and loved mine and my Dad really wanted one too so I'm glad he'll have an amazing bag for Christmas!
12/01/2023
Kyle J.

United States
Good value bag
I like it. We'll see for durability, but so far good. Fit and finish aren't quite what you get with bags that are 2x this price. There was some seams that were a bit frayed but not a huge cause for concern. The rainfly strap is a little strange in that there is a strip that allows you to make sure it is secured, but only works when the main flap is closed. I feel like the secure point should have been put on the other side so you could have the main flap open and still use the rainfly.
10/02/2023
Michael P.

United States
Love It
It easy to carry out of discs golf out of bag and light weight bag. Love the color.
10/02/2023
William B.

United States
Too long
I love the bag. Didn't like how long it took to get it.
10/02/2023
NICHOLAUS D.

United States
Meh
The overall aesthetic of this bag is great. The functionality is where it missed the mark. The 2 top pouches are just ok. The top one is very useful the bottom one is more of a nuisance then help. It can't really hold putters well and if you have discs in the bottom pouch and in the single disc front pouch the window to grab discs is greatly decreased. If grabbing a disc out of the middle section of the bag you almost have to bend the disc or take out the disc from the front pocket to be able to put the disc in well. The pockets also leave area for desire. The two side pockets are huge but why is one not insulated? The Velcro for the parted pocket is also not good or even usable with a water bottle in place. I have seen many people use them as extra disc pouches since the pouches in the bag don't function great. The long side pockets can hold any and everything you need. The chair/grabber pocket is also really good. I wish there was a cellphone pocket. In the day of age where all scoring is done on cell phones for any premium bag to not have a designated pocket for quick access to scoring or even checking OB is silly. If it was a sub 100 bag it would be sufficient. However at over 130 the bag has some oversights that premium bags should have.