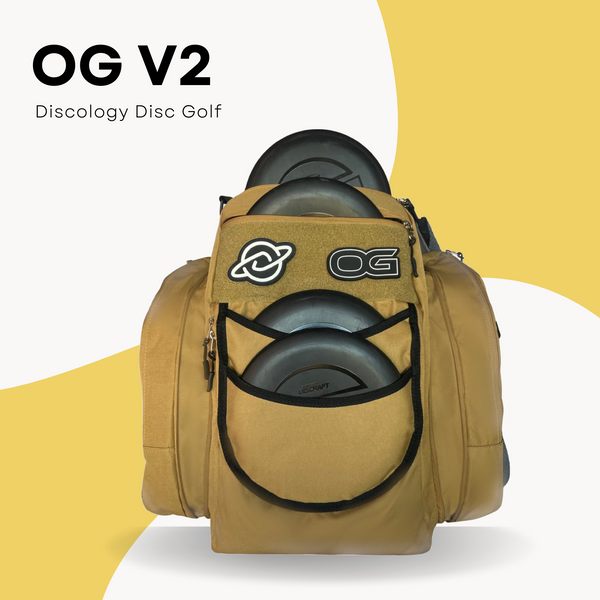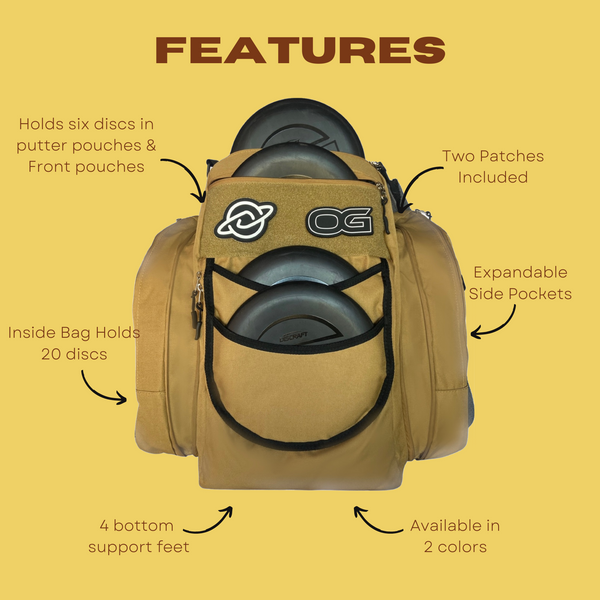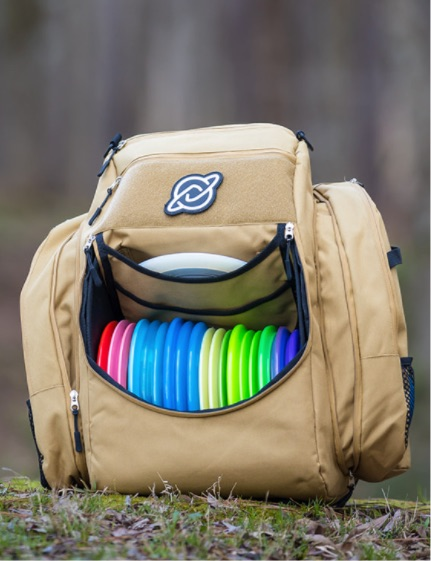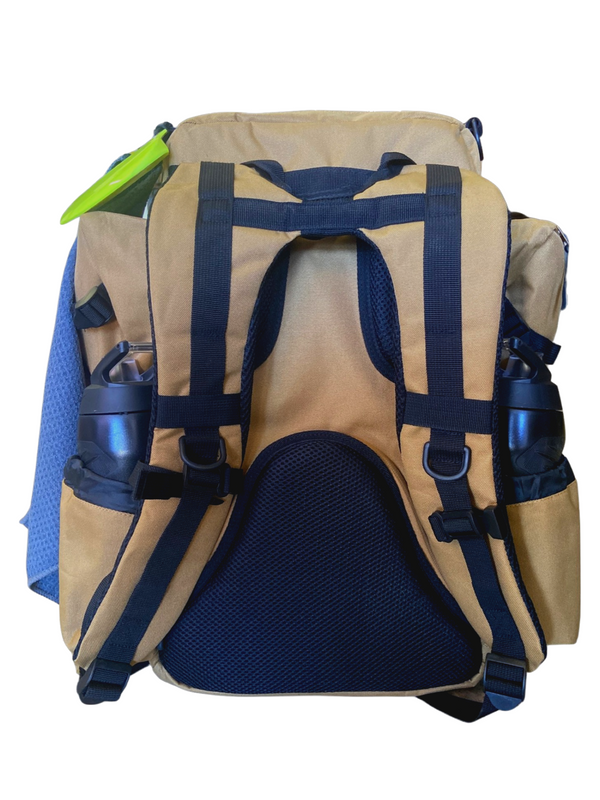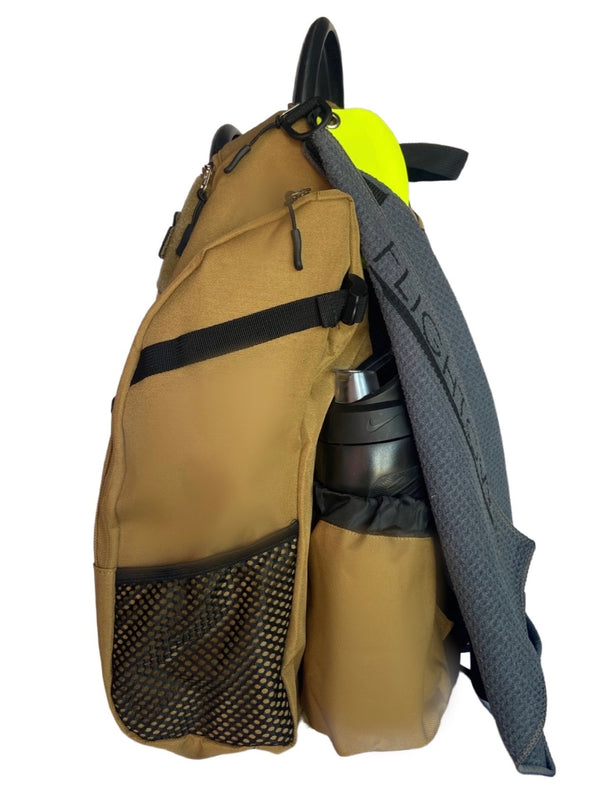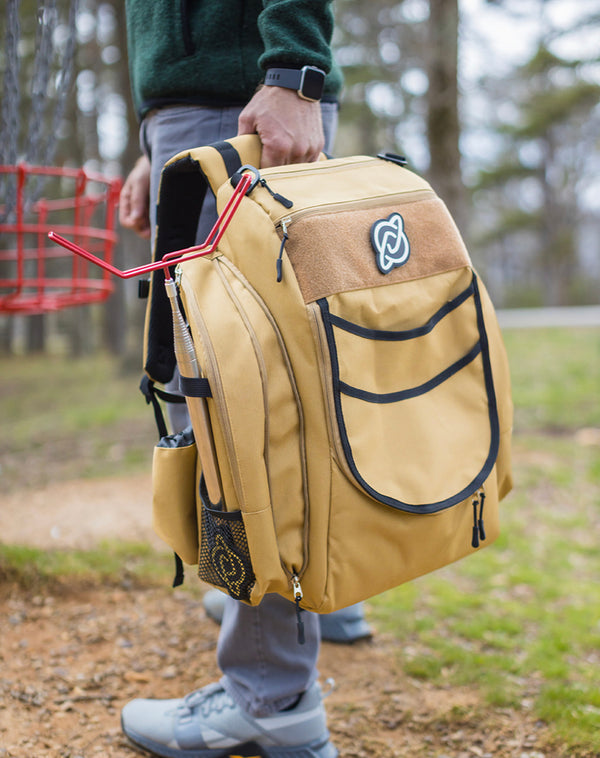 DIMENSIONS: 15 l x 10 w x 19 h
PREMIUM BUILT DISC GOLF BAG: Made from durable tear, water, and scratch resistant Canvas material. 
LARGE STORAGE CAPACITY: 26+ Disc Capacity. 

LARGE STORAGE CAPACITY:
25+ Disc Capacity.
17 Disc Capacity Main Compartment
2 Putter Slots on Front Panel
2 Large Putter Pouches on Top
LIGHTWEIGHT AND COMFORTABLE: Built to be carried all day. No need to sacrifice durable for comfort. This bag does both exceptionally well! Well padded back with additional storage compartment. Reinforced Padded Straps.



100% Money Back Guarantee! Our goal was to build the best value bag in the sport of Disc Golf. For Beginners to Professionals. You will love this bag. 1 year warranty
Customer Reviews
07/26/2023
Claren K.

United States
Discology frisbee golf bag
Great! Good quality material. Holds plenty of discs!
02/23/2023
Silas B.

United States
Great bag for the price
For the storage space, lightweight quality, and seemingly nice fabric (only been using for a week so far), this bag is definitely a good option for $100 including shipping. My only complaints are: the putter pouches seem a bit tight, especially on the front flap. There isn't a convenient phone/keys pouch that I could easily identify. And the back padding (while being comfortable and plush) is a bit abrasive, so tossing the bag onto your back scraps your arms a little bit uncomfortably. But for a bag that I could easily see someone buying for twice the price, I highly recommend.
02/13/2023
Kevin Rivet Jr.

United States
Surprising spasious yet compact
I'm surprised how much I can fit in this bag and weighs less than my DD bag.
01/31/2023
Jonathan C.

United States
Awesome Bag!!!
This bag exceeded my expectations! For the price, you are getting a high quality bag that is very well balanced. 10/10 would recommend to someone looking for a bag.
11/01/2022
Christopher D.

United States
Great value, but quality may be lacking
Overall I really like this bag. It is similar in design and capacity to a Grip EQ bag at a fraction of the price. Its small form factor feels more ergonomic and comfortable than my previous Prodigy bag which felt big and boxy. However, I do have to say that I am concerned about the long term durability of this bag, specifically the upper pockets. After just 12 holes of pulling my two putters in and out of the top most pocket I noticed the seam of the pocket started to rip on one side. It appears that the upright insert that is provided is too long and interferes with the usability of that pocket, causing premature wear. Also, in my experience it seems that the upright inserts on each bag I've owned have been too long for the bag, causing much difficulty in installing them and leading to fraying of one sort or another. (The inserts to my Prodigy bag had a similar problem and caused fraying and tearing at the bottom of the bag where it would set down on the ground.) I have published a review through Instagram that includes pictures showing what happened with the Discology bag. Otherwise, I am very happy with the bag so far, although I am concerned for the longevity of it.