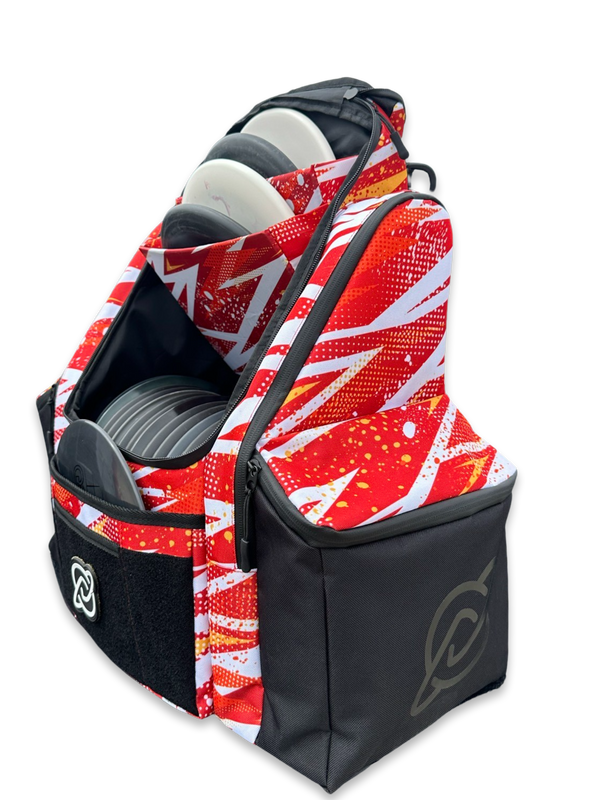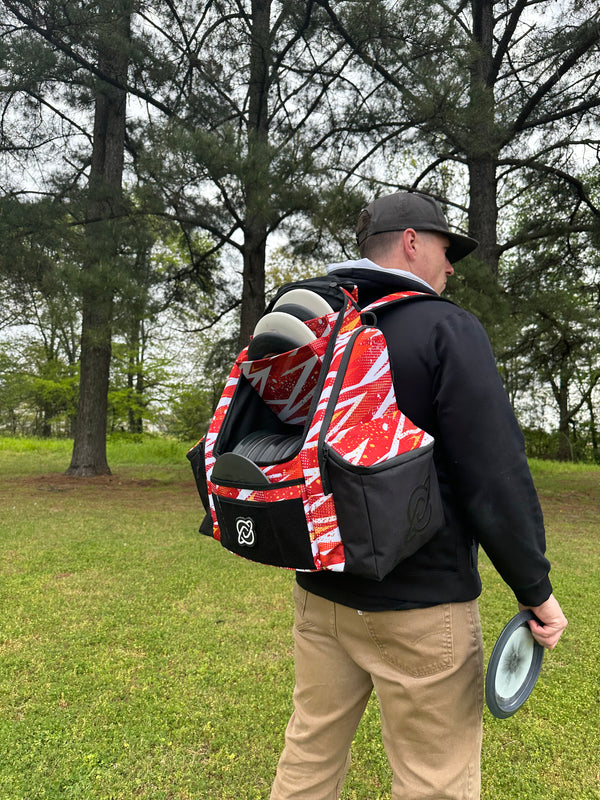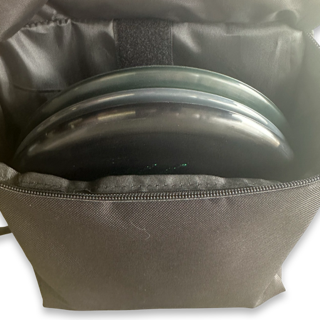 DISCOLOGY ICON AVAILABLE NOW!
LIMITED QUANTITY 
The Icon is the latest addition to the Discology Bag Lineup! This bag has it all from comfort, space, quality, looks, and durability. 


DIMENSIONS: 20W x 19H x 9D
ALL ICON BAGS COME WITH A RAIN FLY!
OPEN BAG CONCEPT: Our open bag design makes it very easy for seeing and accessing all discs. 
WATERPROOF ZIPPERS
WATER RESISTANT COATING
VELCRO FOR PATCHES (Comes with one discology patch) 
COMFORT: 
Extra thick back padding and strap padding
Soft Grip Handle 
Great weight distribution
Easy Access bottle holder
STORAGE:
A 30+ disc storage capacity. The main storage compartment can fit 4 putters in the putter pouch, 18 in main copartment, 4-5 discs in each side pouch
2 side pockets that can carry discs, water bottles, Nalgene bottles, Phone, Apparel,  or whatever else you might need. The left pocket also has a removable bottle divider to keep your bottles upright along with a water bottle holder on the right pocket
2 tall stroage compartments with waterproof zippers, able to store sweatshirts, elastic pocket for storing phone, keys, bug spray, sunscreen, or whatever you need
2 D rings so you can hang your towel or speack
Storage sleeve on the back side to store umbrellas or disc retrievers
Dedicated front storage for minis above the velcro area
DURABLE: 
4 Feet on the bottom to protect the bag and provide stability
4 plastic inserts for the side, front, and bottom walls of the bag
All bags come with 1 year warranty
Customer Reviews
12/01/2023
Alan S.

United States
If you wanna carry lots of discs!
If you wanna carry 30-maybe 40 discs depending on speed. Heavy on putters and mids = less. Fairways and up = more. And after you load your bag up feel free to pack in snacks and drinks, stay hydrated, stay fueled. Bring all those dusty discs from your shelf and start tossing them. You got room now. Experiment, add stuff you've never throw. You got room now. And the price is very competitive. Oh, hit the gym because unfortunately with all them discs and snacks and drinks, of course it's gonna be heavy. Don't worry, it is good for you. Stay healthy.
09/13/2023
Garrett S.

United States
A Great Bag with a Well Thought Out Design for a Great Price
I've only used it for a couple of rounds, so I can't really make a recommendation until I know how well it's going to hold up, but here are some early thoughts. My previous bag was a Paratrooper for reference. I really like the dedicated retriever pocket, but you do have to be careful to angle the claw away from the shoulder straps or it will catch when putting your bag on. Still better than most bags where you have to put it in a pocket and figure out how to keep the zipper from coming undone. Tons of room, both for discs and for anything else you need. First few rounds with it I thought I had lost a couple of discs because there was more empty space than in my Paratrooper. It's a large bag, and it does feel like it when you're wearing it. Comparable to the Paratrooper in that regard. But it holds a lot more than the Paratrooper and it doesn't feel quite as wide because it doesn't have the dedicated wonky water bottle holders way out on the edges like the Paratrooper. I wish both side pockets had the removable dividers instead of the one having the water bottle elastic. Speaking of those side pockets, a way to secure the 'lids' of those pockets open would be nice. I may look into sewing some Velcro on mine. The putter pockets could use a flat bottom that's the width of a couple of wide putters. Without anything there, one disc seats all the way down and the other is on the verge of falling out. If I try to cram them in at the same time it feels like they're interfering with each other. I've solved this problem by putting a Whale Sac in the bottom of each putter pocket. Foam could also work. I wish the D-rings were on the sides or the front of the bag, not the back by the straps. I love that it comes with the rain fly. Not that I'll need it much here in AZ, but it's definitely nice to know it's there.