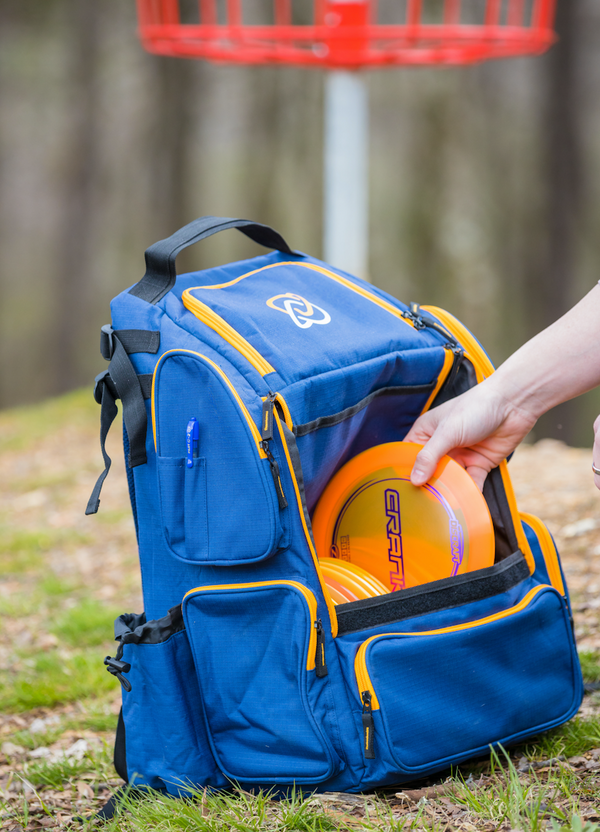 ★ DISCOLOGY DISC GOLF IZZO BAG - Premium Disc Golf and Frisbee Golf Bag. Pro Quality, great for players of all levels.

★ DISC CAPACITY - The IZZO bag can comfortably hold 28 discs. If more disc golf storage is needed, the top and side compartments can be used for additional discs as well.

★ STORAGE - Don't leave any of your essentials behind! The IZZO comes equipped with plenty of storage, carried comfortably for hours on the course.

★ QUALITY - Your bag is an essential part of your Disc Golf Equipment. Made from weather and tear resistant materials. High Quality, Durable, Stylish, and Functional.

★ FEATURES - 4 Side Compartments, Putter Pouches on the side and Front Flap , X-Large Top Compartment , Large Bottom Front Compartment, Large Water Bottle Compartment, High Quality Zippers, Designed to Stand up, not to tip over - Stylish Design
Customer Reviews
11/01/2023
Trey W.

United States
Pretty solid bag.
Storage is as advertised, I think I fit 30 discs in this bag no problem. Materials are pretty quality and the look is great. My only issues are with how it sits on your lower back, and how the straps can be difficult to take on and off. The plastic support in the bottom of the bag digs right in to the low back and it's almost impossible to take off without first loosening the straps and then tightening them again once you put it on. Very uncomfortable to wear and mess with for a whole round. I think this bag will serve as my practice bag when I want to take a bunch of discs out for field work.
03/05/2023
Trent B.

United States
Fantastic
The best bag I've ever owned. It holds everything I need.
01/25/2023
Frankie R.

United States
Great bag, great price!
The bag looks great and has a ton of storage space!
11/04/2022
David

United States
Such a great bag!
Such a great bag with tons of storage for discs and anything else you might need. I read some reviews that mentioned the drink holder not being big enough to hold a full size Nalgene bottle but it fits in there perfectly (it is snug). For this price you won't find a nicer more capable bag and rest assured they will stand behind the product. I had an issue with my first bag and they sent me another one without any questions.
07/21/2022
Joel K.

United States
IZZO all the way
This is a great disc golf bag! I finally decided to stop using an old backpack after two years of "getting into disc golf," and you can't find a better bag for the price. I love the plentiful pockets, the ability to carry 20+ discs, and the crisp design. I don't feel like I'm carrying too much weight, and it's way cheaper than other comparable bags on the market. For all the features and under $100, I'd totally recommend this bag!