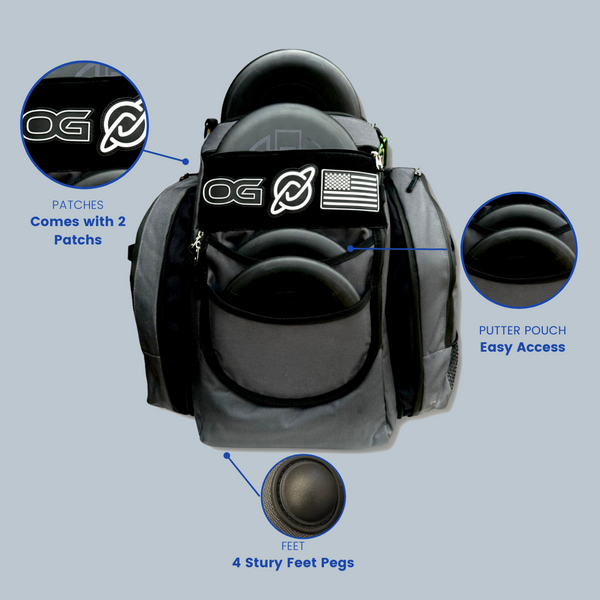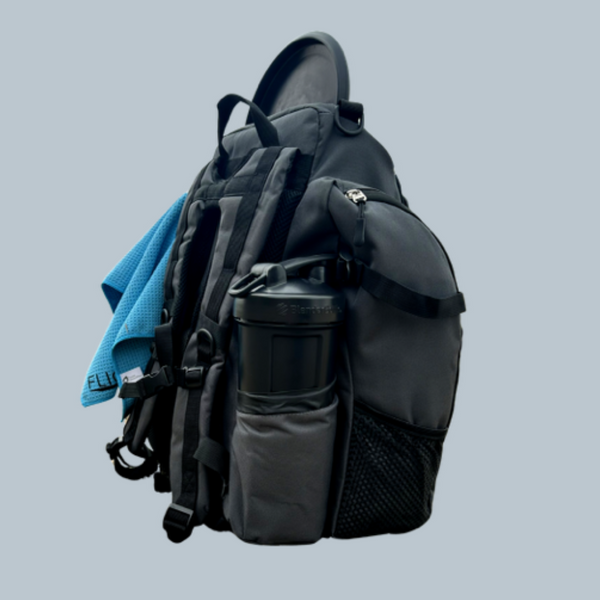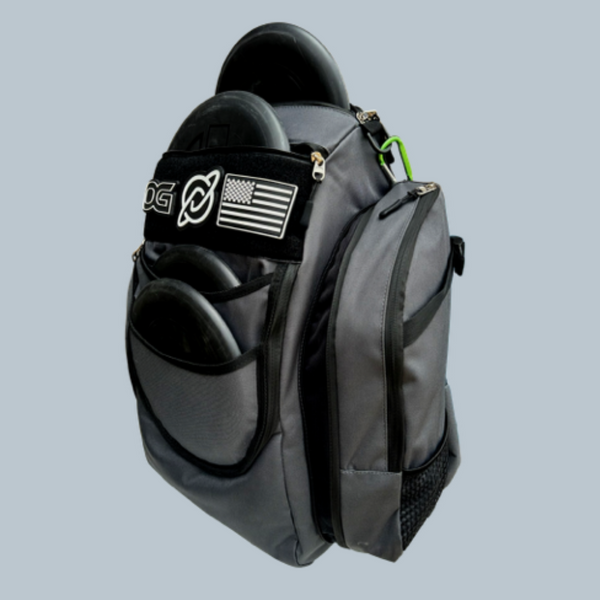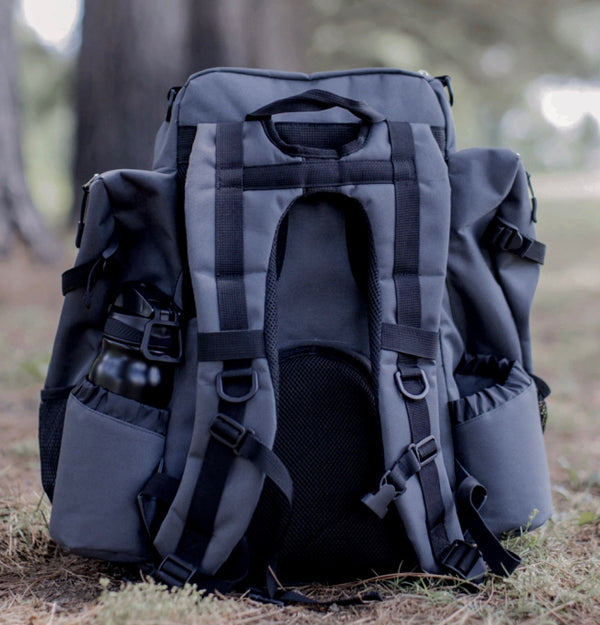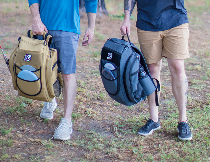 DIMENSIONS: 15 l x 10 w x 19 h
PREMIUM BUILT DISC GOLF BAG: Made from durable tear, water, and scratch resistant Canvas material. 
LARGE STORAGE CAPACITY:
25+ Disc Capacity.
17 Disc Capacity Main Compartment
2 Putter Slots on Front Panel
2 Large Putter Pouches on Top
LIGHTWEIGHT AND COMFORTABLE: Built to be carried all day. No need to sacrifice durable for comfort. This bag does both exceptionally well! Well padded back with additional storage compartment. Reinforced Padded Straps
100% Money Back Guarantee! Our goal was to build the best value bag in the sport of Disc Golf. For Beginners to Professionals. You will love this bag. 1 year warranty
Customer Reviews
11/01/2023
Clay b.

United States
Cool bag, but has issues
My daughter got me this bag for my birthday. I was stoked to finally have a new bag, but this things got too many issues for me to make the full switch. The putter pouches on the flap don't hold discs. It's too small for the diameter to fit. And once you do get a disc in there, you have to pull so hard that the Velcro releases from the back, which can be tricky to put back on. The sides don't fit well and don't really help with holding the bag upright. They tend to bow in, even after getting the Velcro perfectly aligned. This causes issues with the bag sagging to one side. I've had to resort to putting my putters in the upper pockets, which makes it impossible to use the front flap at all. The side pockets are perfect. It's a comfortable bag, water bottle pockets are set too high, so the bottles don't rest on the ground, causing the bag to be droopy. I know they had the thought that not maligning them lower would make them last longer, so we will see. My bottles don't fit, normal Nalgene size. Would I recommend this bag? Nope. If I bought it would I return it? Yep.
01/24/2023
Ryan J.

United States
Best bag under 100$
I had a bit of an issue getting the plastic walls in the bag. Still not sure if I installed them correctly. Now they are in and this bag is amazing. It seems that I find more places to put things every time I use it. It's my only bag now and I have room for everything even my retriever, stool and towel. All without having this big bulky clunky bag I used to have. It's comfortable and the weight distributes evenly. It's easy to take out and identify my discs.
10/15/2022
Jay E.

United States
Great bag, great price!
I've only had the bag a couple of months now, and it's exactly what I wanted. Plenty of disc space, plenty of storage space, large water bottles fit nice and snug, and it's comfortable on the back. Very well thought out design for the everyday and competitive disc golfer!
10/11/2022
Evan M.

United States
Durability questions
I love a lot of things about this bag. Great size, thoughtful design, lots of pockets. However, the water bottle tore after five rounds. Not great quality, and no response from the company despite the satisfaction guarantee.
09/28/2022
Skante W.

United States
So close to being the ideal bag
I have used this bag since it arrived earlier this month in September. For reference, I own a Squatch bag and an Innova Excursion bag and have had several other disc golf bags over the years. This has been my dedicated bag for over three weeks. Overall I find the capacity to be perfect for me. I comfortably fit 24 discs in the bag (4 putters, two approach putters, three mids, and 15 drivers). For reference, I comfortably fit 25 in my Squatch bag without forcing discs into places they don't belong. The pros: This bag is exceptionally comfortable and carries weight well. The capacity is perfect. I find the storage to meet and exceed my needs. Unlike other reviews, I've never had an issue with the water bottle pockets and have used large water bottles without any problems, albeit nothing non-standard. The cons: This thing needs a dedicated mini pocket. Hopefully, later versions will prioritize that. I find myself misplacing my mini (which is usually floating around in the putter pocket or upper zipper pocket) or being forced to keep it in my back pocket during rounds. I play in the PNW and would appreciate a built-in rainfly in future versions. That's standard in the Innova Excursion, and that bag is still at an affordable, competitive price point with equivalent capacity. Two zipper pulls have already failed me in less than a month. I know a lot of emphasis in this version was placed on mitigating the stitching failure on the straps in V1, but zipper pulls should be an easy fix. Hopefully, that can be improved in the future. Again, this is a great bag, and I prefer it to the others I own for various reasons, and at this price point, it's easy to deal with these minor issues and adjust, but again a dedicated mini pocket would be amazing!